Los Angeles Tummy Tuck Revision Surgery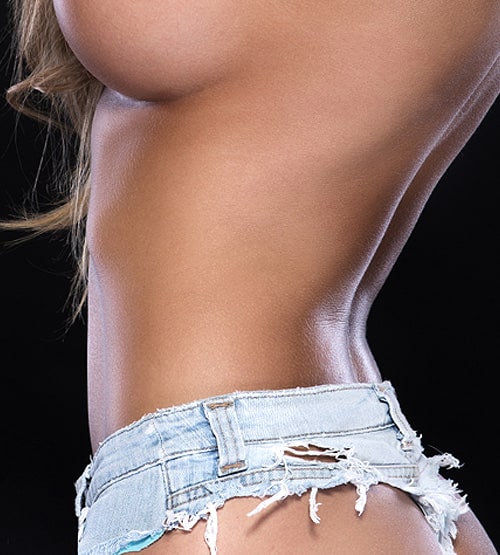 What is a Tummy Tuck Revision?
A tummy tuck revision surgery is performed to improve a past tummy tuck procedure. Patients who have undergone a tummy tuck at another plastic surgery office and are unhappy with their results can visit Dr. Moein at Moein Surgical Arts to achieve their desired results. Dr. Moein is dedicated to helping patients receive beautiful results with the leading tummy tuck revision surgery.
Candidates for a Tummy Tuck Revision
Candidates for a tummy tuck revision have previously undergone a tummy tuck procedure elsewhere and are not satisfied with results. Candidates may wish to address unwanted fat, tissue, and scarring as a result of a previous tummy tuck procedure. Patients must be in good health and have realistic expectations for this procedure. Dr. Moein will meet with the patient for a comprehensive consultation to determine their candidacy for a tummy tuck revision. Dr. Moein will perform a physical exam of the abdomen area to identify any concerns or problem areas caused by the previous procedure. The patient can discuss their past procedure and ideal goals for the procedure with Dr. Moein during this appointment. Dr. Moein will create a customized treatment plan for the patient detailing the procedure and recovery process.
Tummy Tuck Revision Procedure
Tummy tuck revision procedures are performed as outpatient procedures at Moein Surgical Arts. Each tummy tuck revision will vary based on the patient's needs and Dr. Moein's expertise. This procedure is performed under general anesthesia. During the procedure, Dr. Moein will carefully remove excess tissue and unwanted skin. Dr. Moein may also combine this procedure with liposuction to remove stubborn fat. The recovery timeline will vary based on the complexity of the patient's tummy tuck revision. Patients may experience swelling and bruising after the procedure. Dr. Moein recommends patients wear a compression garment to reduce symptoms and heal the abdomen into the desired shape for around 6 to 8 weeks. Patients can return to work within 2 to 3 weeks of the procedure. Results are long-lasting and can be maintained with a healthy diet and exercise.
Contact Moein Surgical Arts to learn more about our tummy tuck revision procedure.
To find out more about DR BABAK Moein. We advise you to request a consultation online. If you prefer, you are more than welcome to call our office
to schedule your appointment.