LOS ANGELES CELLULITE TREATMENT - VELASHAPE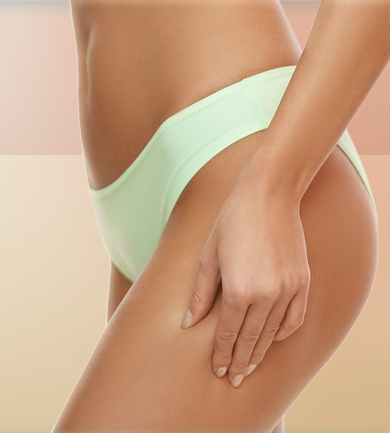 CELLULITE REDUCTION
Many people feel uncomfortable or embarrassed about showing their legs or thighs in public. This is often because of cellulite. Those with cellulite have skin that is bumpy and puckered instead of smooth and natural-looking.
CAUSES OF CELLULITE
The appearance of cellulite comes about as a result of pockets of fat pushing against the connective tissue beneath the skin.
There are numerous potential causes for the formation of cellulite in the skin. A slow metabolism, hormonal fluctuations, dietary issues, a history of cellulite in the family, excess body fat, and dehydration may all contribute to the formation of new cellulite.
Women are more likely to have cellulite than men are, and people do not need to be overweight to form cellulite in their skin.
VELASHAPE® FOR CELLULITE REDUCTION
VelaShape® is a non-invasive method of reducing the amount of cellulite in targeted areas of a person's skin. The feel and appearance of the skin is rejuvenated. The treatment involves using advanced technology to apply a mix of healing methods to the skin.
Patients whose cellulite can be classified as stage one or two are ideal candidates for this procedure. Stage-one cellulite only appears when the skin is pinched. Stage-two cellulite is visible when the patient is standing, no pinching required. When they are lying down, the cellulite is not visible.
Patients with a BMI (Body Mass Index) of below 30 are also ideal candidates. Patients without these criteria may still be able to enjoy the benefits of VelaShape.
VELASHAPE TREATMENT
Your VelaShape treatment will require around 30 to 40 minutes to complete. It will feel comfortable, warm, and similar to a relaxing massage.
During the procedure, the skin of the treatment area is smoothed out with the help of vacuum treatment and massage rollers. The vacuuming stretches out the constricted fibrous bands that make up the cellulite. When these bands are stretched out, the skin is able to become smoother. The mechanical massage aids in lymphatic drainage, helps the body carry out toxins and the byproducts of fat cells, and enhances the blood circulation in the area.
The key component of the VelaShape treatment is its elōs™ technology. This technology combines infrared light energy and radiofrequency energy. Smoothing out the skin with vacuum and massage makes it easier to quickly and evenly treat the area with this technology. The energy heats the tissues in the hypodermal and dermal layers to boost fat-cell metabolism and shrink fat cells. Tissues in the area are not damaged.
AFTER TREATMENT
VelaShape will not require any healing time from the patient, since the procedure is non-invasive. Follow-up treatments will be needed, typically around six. The exact amount of treatments needed will depend on the patient's goals, their body type, and several other factors.
Patients typically see results immediately in the form of smoother and tighter skin. These results improve over the course of several weeks, and within two to three months, cellulite will be reduced or eliminated from the treatment region.
USING VELASHAPE WITH LIPOSUCTION
VelaShape can also be used with liposuction surgery for enhanced results. Liposuction focuses on spot removal of fatty tissue in order to contour the body. It is not able to remove cellulite, and it can even worsen the appearance of cellulite in certain cases; because of this, using Velashape with liposuction is ideal, since it helps to remove cellulite and tighten the skin of the patient.
ARRANGE AN APPOINTMENT TO LEARN MORE
Arrange a VelaShape consultation with Dr. Moein of Moein Surgical Arts to take care of that unwanted cellulite. To schedule an appointment for an evaluation, contact us today.
To find out more about DR BABAK Moein. We advise you to request a consultation online. If you prefer, you are more than welcome to call our office
to schedule your appointment.