Male Breast Reduction: Gynecomastia Surgery in Los Angeles, CA

An overgrowth of breast tissue as a male, also called Gynecomastia also known as "man boobs" can occur at any age. Male breast development can stem from hormonal imbalances, medications, drug use, or genetics. This stubborn localized fat is sometimes unaffected by exercise or diet. This medical condition affects up to around 30% of all men at least once throughout their lives. Male Breast Reduction surgery from a qualified, experienced surgeon is the consistently effective solution that delivers long lasting, if not permanent, results.
Gynecomastia Surgery

Gynecomastia surgery effectively corrects male breast size while enhancing aesthetics by sculpting the chest area and even gives you the option of changing the position and size of your areolas. Depending on your individual case, there are different procedure options for reducing your breast size. Most procedures are simple outpatient, same-day surgeries.

To find out more about DR BABAK MOEIN. We advise you to request a consultation online. If you prefer, you are more than welcome to call our office
to schedule your appointment.

Breast Reduction Procedures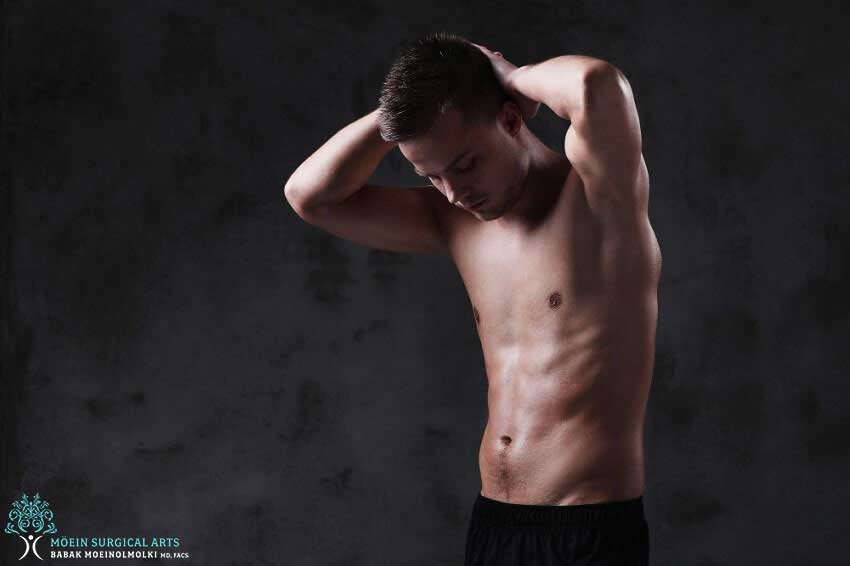 Depending on your specific condition and personal body goals, Dr. Moein will recommend a specific procedure or method. Some patients prefer high definition VASER liposuction to sculpt the chest tissue. This procedure can also shape your pectoral area, giving you a chiseled and firm contour.
For significant laxity and sagging skin sometimes require tissue excision and lift surgery.  Some male breast have fatty component which often responds well to liposuction alone.  For patient that suffer from extensive glandular component of their breast they will require excision through small incision under the areola.  This method allows you to remove more tissue and skin that cannot be removed with traditional liposuction.

Am I A Candidate for Male Breast Reduction?
The ideal candidate for this surgery is an individual with excessive breast tissue and is of normal healthy weight. Individuals must not have any medical restrictions on general anesthesia for outpatient procedures. Patients cannot be on any type of blood thinners or anticoagulants.
Learn more about your options for male breast reductions and schedule a consultation with board-certified physician Dr. Moein. Moein Surgical Arts is the trusted provider of cosmetic breast surgeries in the Los Angeles area. During your initial consultation, Dr. Moein will thoroughly exam your body, and explain your options for breast reduction.