BREAST AUGMENTATION LOS ANGELES
Many women find breast augmentation increases their body satisfaction, self-confidence, and makes them comfortable in their clothing.
BREAST IMPLANTS
If you feel that you would like to go up one or more cup sizes to enhance your proportions, breast augmentation may be the right procedure for you. Breast augmentation is an extremely effective way of adding volume and curve to the breasts.
Breast implants are available in a variety of types, textures, shapes, and sizes. Breast implant types are defined by their filling. They can be filled with either silicone or saline. Your choice of filling will impact the weight and firmness of the breasts, along with key aspects of your surgical procedure.
Smooth and textured breast implants also come along with their own set of considerations, as do spherical and oval implants. During your consultation, you'll be able to discuss breast implant options and how they will best help you meet your aesthetic goals.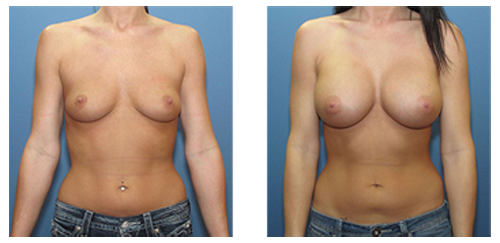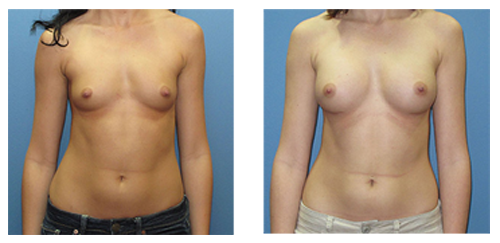 MORE BREAST AUGMENTATION EXAMPLES:
THE PROCEDURE
The breast augmentation procedure begins with anesthesia to eliminate any potential pain during the surgery. An incision is then created in one of several areas. The incision site is chosen based on factors such as the desired type and size of the implant. Options include in the armpit, around the areola, and in the fold beneath the breast.
Once the incision has been made, a pocket is created in the breast tissue; this is where the implant will be placed. The implant is inserted and positioned correctly and symmetrically. To complete the operation, the incisions are closed with medical stitches.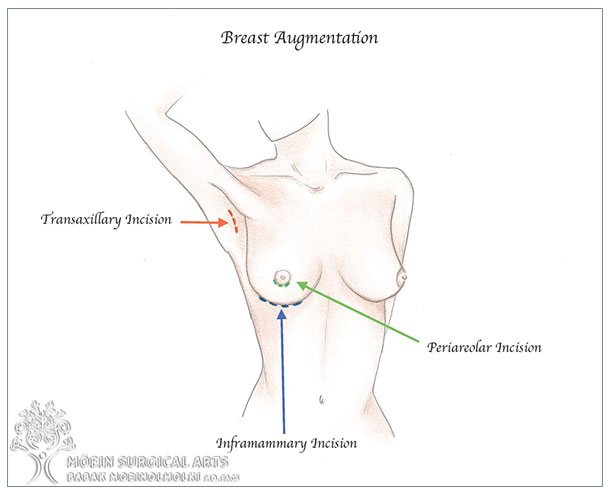 RECOVERY
While you're experiencing breast augmentation recovery, it's best to be very gentle with the tissues in the area. Engaging in any physically taxing or stressful activities is not recommended. Bruising and swelling resulting from the operation can be reduced in a number of ways, such as the use of cold compresses and surgical support garments.
Saline & Silicone Implants
To find out more about DR BABAK MOEINOLMOLKI. We advise you to request a consultation online. If you prefer, you are more than welcome to call our office
to schedule your appointment.